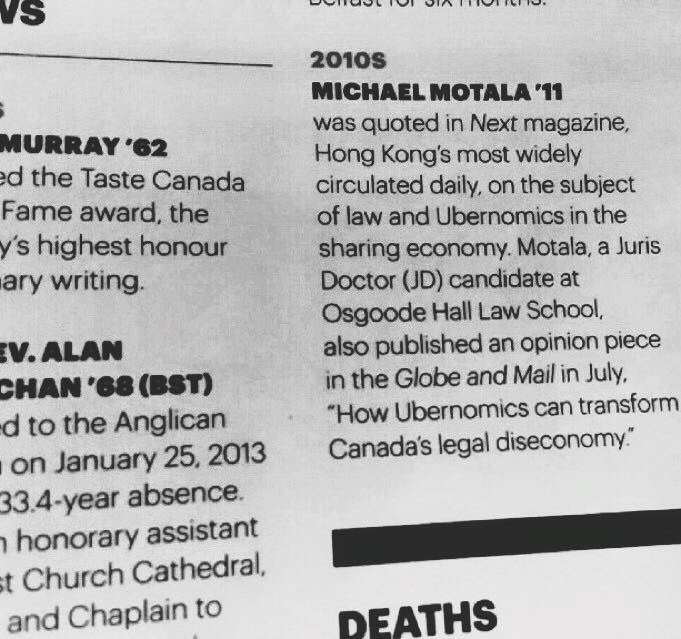 Hong Kong's Next Magazine
So happy I got to interview with Hong Kong's Next Magazine as the story was bubbling over. My quote reads:
"Michael Motala, a Juris Doctor (JD) candidate at Osgoode Hall Law School, has released a detailed research paper about law and Ubernomics in the sharing economy. Michael explained Uber has succeeded so far because it has taken advantage of the existing regulatory lacuna. Their business strategy appears to seek market dominance at any cost, and address the legal and regulatory challenges once they have an established marketplace and economic leverage. That way the public interest dominates over private corporate interests, and the interests of groups like existing taxi cab operators. Michael also suggested that Uber is a sign of things to come in the digital economy, governments and regulatory authorities would benefit from closer collaboration with technology companies like Uber, coupled with high-level regulatory redesign."
Front Page of the Globe
Elated that I was featured on the home page of the Globe today. Check out my article here:
Click here: http://www.theglobeandmail.com/opinion/canadas-action-on-queer-justice-is-a-good-first-step-now-its-time-to-go-international/article31400212/
Maclean's
Grateful for coverage ahead of our presentation at the Parliamentary Press Gallery on Monday. Through the law, justice.
http://www.macleans.ca/society/everett-klippert-an-unlikely-pioneer-of-gay-rights-in-canada/
DEAR SIR-
My modest attempts to get Canada some real estate in the Financial Times.
Pick up your copy, or check out the link.
2016 Osgoode Hall Dean for the Day
Remarks as Dean of the Day
Thursday March 10, 2016
Recently, the New York Times reported on a legal battle launched by Anna Alabura against her former law school. The 37-year-old graduate of New York University and Thomas Jefferson Law School is saddled with $170,000 of debt. After 150 interviews, and working part-time non-law jobs to make ends meet, it is clear she totally struck out following graduation. Arguing the school published misleading employer data, Alabura has persuaded a court to hear a lawsuit against the school. She is among a small group of claimants who have succeeded in achieving a hearing on the merits in the United States (there is only one other case that will proceed)
Alaburda is an exception to the rule, though her case highlights growing frustration with the way legal education is operated in spite of modern economic reality. The institutional foundations of Canada's legal education system are markedly different, to be sure. We have fewer law schools and lower tuition rates. It is concerning, however, that the University of Toronto's Faculty of Law, with Osgoode in tow, is consistently raising tuition fees. With fewer graduates, Canadian students on balance have a better time of finding a job. Based on numerous conversations with business lawyers, it seems the Canadian industry is not growing, and salaries have stagnated for a decade. What justifies increasing fees? Like the American case study, however, Obiter Dicta's upcoming recruitment survey also highlights the fact the most lucrative jobs tend to go to graduates from the two Toronto schools. Pedigree still matters. Diversity in the profession is still lacking. Suffice it to say, the law is out of touch with the New Diversity Politics.
It also goes without saying there is turbulence and change in the current marketplace. The Economist calls it the Fourth Industrial Revolution. Pick up any leading financial affairs magazine and you will see nearly all the stories are on tech, finance, and cybersecurity. MaRS Discovery District and Ryerson's Legal Innovation Zone have a growing number of innovative legal startups. In this context, I think there is a vital opportunity to challenge the assumptions—-the theory of lawyering and legal education if you will—so our school is proactive about the future of digital lawyering, and poised to reclaim national leadership. Along the way, I hope we will modernize legal pedagogy and the underlying character of the profession in Canada.
As part of this project, we should strive to challenge the institutional inertia of the profession, the law's deeply embedded hierarchies of class and power, and the implicit ontologies guiding curricular and programmatic design and execution.
My motivation for entering the Dean for the Day contest was simple. I think the economic and pedagogical approach at Osgoode is based on an implicit business focus. The "classical model" envisions the freshly minted law student practicing corporate law on Bay Street, working 12 hours a day until they have a child, burn out, or make partner, and living happily forever after. This supplies the justification for the cost of legal education. Our profession is a monopoly and potentially lucrative. Many students, particularly those saddled with the highest debt levels from lower income backgrounds, sign up for a Faustian bargain.
The narrative still holds some water. A sizable portion of the class seizes a position during on-campus interviews, according to Obiter's recent survey. Nevertheless, results indicate there is a growing gap of students who are not served well by the current model, the prevailing focus on on-campus interviews, and the curriculum/CDO programming. Against this backdrop, the globalization of legal services has led to out-sourcing to lower-cost jurisdictions, the billable hour is being supplanted by fixed-cost projections, and the traditional Canadian corporate law market is atrophying. Our industry is changing, and the implications are untold. Harnessing social and information technology, the growing culture of entrepreneurship in Toronto-based tech hubs, and by expanding the implicit idea of lawyering, I think Osgoode will be well-positioned to lead the legal profession's legal renaissance. Connecting theory with practice is in fact deeply rooted in Osgoode's history and culture, and the intellectual debate on legal education that coincided with our modern founding on the Keele Campus.
Here is my five-point plan for Osgoode, based on the new realities of business, public affairs, legal pedagogy, institutions and competition.
1. Lawyering in the Digital Economy
Enter the new business reality. Emerging technologies like ROSS enable lawyers to use artificial intelligence to answer simple legal questions. In the future, QuickLaw and WestLaw will be anachronisms. Students ought to be acquainted with emerging technologies in reformed Digital Legal Process course. Platforms like LawScout also promise to connect lawyers with small business harnessing peer-to-peer technology. Focusing on entrepreneurship and basic business skills, graduates equipped to address the needs of lower-income clients while yielding significant remuneration due to the efficiency gains of digital technology.
Technologies like the MaRS Discovery District-based Small Claims Wizard, which facilitates self-represented litigation over small claims, highlight new opportunities for entrepreneurship to address the access to justice crisis. Partnering with LegalX at MaRS, and Ryerson's Legal Innovation Zone, I am convinced Osgoode will position itself to launch a generation of legal entrepreneurs harnessing digital technology.
Harnessing technology and institutional partnerships, Osgoode can broaden the classical conception of lawyering so we are responsive to emerging context and proactive about the future.
2. Law, Policy & Journalism
Enter the new public affairs reality. Across Canada, print newspapers are shuttering, and a career in paid journalism is not viable for entrants to the profession. Conventional journalism is dying, however, there is a growing market for freelancing and special contributions. With the tools of rigorous legal analysis, Osgoode students are poised to make timely, policy-relevant and influential contributions to the digital media discourse. Competing law schools are moving in this direction. The University of King's College, Halifax, is the first law school to offer a JD/Master of Journalism. Partnering with online newspapers, like the Canadian Bar Association's National Magazine, and forming a joint program with Ryerson's reputed journalism school, Osgoode students will be positioned to be leading voices in the democratic discourse.
With creative partnerships and a new joint program, Osgoode can broaden the classical conception of lawyering so our graduates are reputed for their leadership in the media. Let's connect elevated academic inquiry with the needs of public affairs, crystallizing our commitment to the public interest.
3. Big Data Analysis & Empirical Legal Studies
Enter the new intellectual reality. Big data is transforming the foundation of business economics. Empirical legal studies are revolutionizing the discipline. The law itself is an inherently normative project, however, scientific approaches to the law are useful tools for policymakers and businesses alike. Empirical data may also support the evolution of legal doctrine and philosophy. Moreover, a culture of empiricism could help us derive further insights about diversity at the school, supporting evidence-based policy and decision-making at the school. Embracing empirical approaches and new modes of data collection in all aspects of the institution will make us stronger and more prepared for the evolving realities of the market.
4. Institutional Partnership with Ryerson University and MaRS Discovery District
Enter the new institutional reality. Ryerson University and the MaRS Discovery District are emerging hubs for tech entrepreneurship. As the home of the Law Practice Program (LPP), there are reports Ryerson is striving to open a new law school. Our market does not need more freshly-minted law graduates. Osgoode already has a foothold in the downtown area through the Professional Development. Osgoode brings highly regarded brand recognition to the equation. Ryerson need not open a law school. Instead, by partnering in the construction of a new facility near the downtown core, a joint effort can yield a more economical option for both institutions, and expand our programming to cater to working professional. Offering a Masters in the Study of Law (MSL) that gives non-lawyers a functional foundation in law, Osgoode can capture new market share among working professionals, and enrich the school's budget, programming and reputation. This facility will also be the site of entrepreneurship and collaboration. In light of the "brain drain" Canada's top talent, I am confident our project will attract significant investment from the Government of Canada and Province of Ontario.
5. Reclaim Canadian Leadership Position and Attain Global Status
Finally, there is the competitive reality. The primary focus on the Keele campus puts the school at a disadvantage when it comes to attracting more working professionals. The University of Toronto's "softening" of the grading profile puts their graduates at a competitive advantage during firm hiring (if the rumours are true that some of our faculty are Marxist, why the obsession with enforcing class structure?). The distribution of offers in the recent OCI survey is compelling evidence this is the case. Modernizing the grading profile, and opening a bigger facility in downtown Toronto, Osgoode will ensure our graduates continue to excel as they lead the profession's digital transformation.
Conclusion
I am humbled to have this opportunity, and grateful to the Dean, the school, my fellow students and the judges of the contest. I think it is heartening we have a democratic, open and inclusive culture at Osgoode. Embracing the digital economy, in my view, will position us to win. More importantly, technology and strategic partnerships will strengthen our school's commitment to ameliorating the access to justice crisis and the public interest. I hope you are in.
My Five Point Action Plan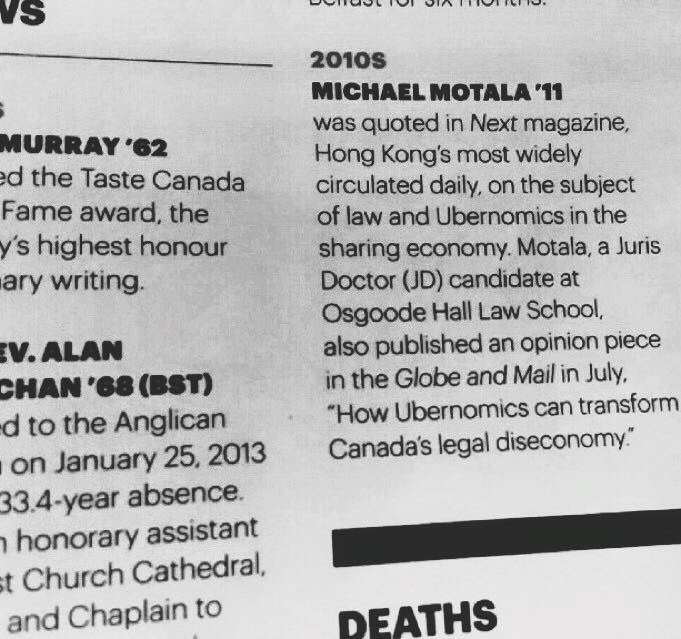 Trinity College Alumni Magazine
On the eve of Toronto's cab strike, so touched my alma mater Trinity College at the University of Toronto is highlighting a bit of my work on Uber and the sharing economy.
Hopefully more lies ahead.
(Also, thank God I wasn't in the row below).
The Public Interest
Since 2008, I have been committed to serving the public interest. See this article written about my effort to secure a position on the University of Toronto's Governing Council in 2008-2009. Although ultimately unsuccessful, it was such a privilege connecting with so many members of the U of T's student body and stakeholders in the community.
Business Plan Competition
Progressive need new vision to counter boom-bust anxiety
Check out the link here:
http://www.theglobeandmail.com/report-on-business/rob-commentary/progressives-need-new-economic-vision-to-counter-boom-bust-anxiety/article32394974/?ord=1